2021.01.14
[Hydrogen business] Notice of Joining 'Japan Hydrogen Association (JH2A)'
We announce that we joined 'Japan Hydrogen Association' which promote the formation of a hydrogen supply chain and global partnerships in the hydrogen sector.
♦ Outline of the Association
[Name]
Japan Hydrogen Association (JH2A)
[Establish]
7th December 2020
[Aim & Scope]
Engage in cross-sectoral initiatives to establish the hydrogen value chain
Accelerate developments toward social implementation to realize a hydrogen society
[Members of the preparatory committee (in alphabetical order)]
*Indicates companies with secretarial roles ENEOS Corporation, Iwatani Corporation*, Kawasaki Heavy Industries, Ltd., Kobe Steel, Ltd., MITSUI & CO., Ltd., Sumitomo Mitsui Financial Group, Inc.*, The Kansai Electric Power Company, Inc., Toshiba Corporation, Toyota Motor Corporation*
♦ Our Activities and Missions to implement a hydrogen society
Tokico hydrogen dispenser 'NEORISE' has been delivered to more than 52 locations (as of December 2020) since the first delivery in 2002.
For 20 locations of them, we are also involved in construction of hydrogen stations (HRS), and provide total engineering work from design to construction, maintenance service.
Our hydrogen dispenser has developed based on technology of our CNG dispenser and we have no.1 share in domestic CNG stations market.
With those technology of CNG fueliung control, we achieved high reliable and high precise control for hydrogen fueling according to hydrogen fueling protocol.
Furthermore, we actively participate in activities to expand the spread of HRS. we are also a member of 'Tokyo Hydrogen Promotion Team' sponsored by the Tokyo Metropolitan Government, and exhibit our hydrogen dispensers at PR events of hydrogen societies held in various places in cooperation with government agencies and other companies.
Through the activities of JH2A, we will continue to contribute to the realization of a sustainable green society with utilizing hydrogen energy.
♦ Contact information
Tokico System Solutions Co., Ltd.
TEL. 050-3852-5336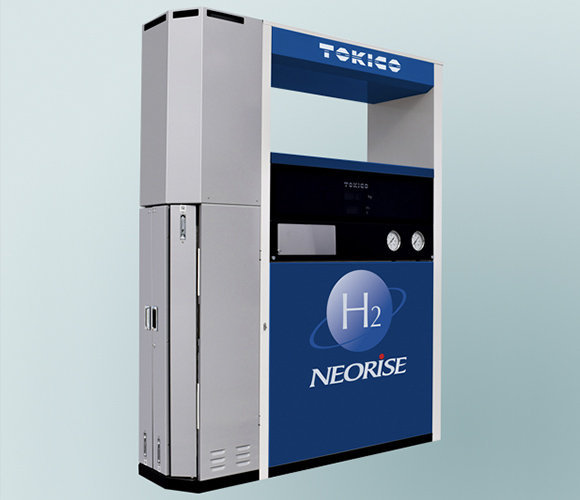 Hydrogen Dispenser